Imagine yourself in a situation where your son is approaching you seeking help with his assignment in physics class. As a great dad, you do your best and help him with the exercise. The next day he receives a high grade and everyone is happy. One week after he comes to you asking for help again, now with a different exercise, and obviously you help him again. This continues week after week, you learn physics and your son gains popularity with his teachers and jealous classmates. But, a question raises, is the high grade considered the desired result in the education process? While for some people it is, many will agree that the mark is less important than the knowledge. And in this little story, it is a completely different problem to be solved.
In this post, we are not trying to teach good parenting, but rather to emphasize the importance of defining the correct problem before jumping into any solution. In our world, in the world of problem-solving, we refer to it as defining the problem statement.
The phase of defining the problem statement is critical, since, as we showed in our life example, without investing the time into finding and defining the correct problem will result in a waste of time and, in many cases, loss of professional competence.
I am sure you can come up with many examples when people are trying to solve the wrong problem.
Now, let's dive into the topic of our discussion
How to define a correct problem statement?
We briefly discussed problem statement aspects in one of our blogs "A problem solver is the main roadblock in problem-solving processes."
For a matter of this discussion, a typical mistake that I want to highlight is the fact that people treat failure and its symptoms as the problem.
What problem is?
How to recognize failure and problem?
The best definition we have found is an explanation provided by Cambridge Dictionary (https://dictionary.cambridge.org/dictionary/english/problem):
A problem is a situation, person, or thing that needs attention and needs to be dealt with or solved.
Plain and simple definition!
A problem is someone or something that makes you change your plans, or makes take actions that you did not plan taking, a problem prevents you from doing that you planned to.
Another attribute of a problem is that the problem can be solved, while the symptom of a failure cannot.
Indeed, in the case of a punctured tire, you can prevent air loss, but you cannot return the tire to an initial condition. A broken leg cannot be fixed, you can solve the problem of the inability to walk and run, but you cannot fix the broken leg.
A single failure can generate a wide variety of problems.
Below is an example of a failure that results in several problems.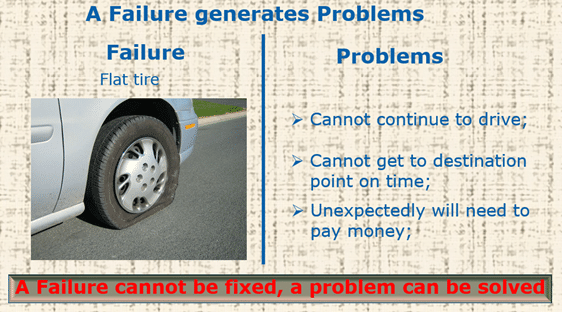 The problem is not what you see, hear or feel; the problem is what you should do as a result of what you see, hear or feel.
Let's go through some additional examples: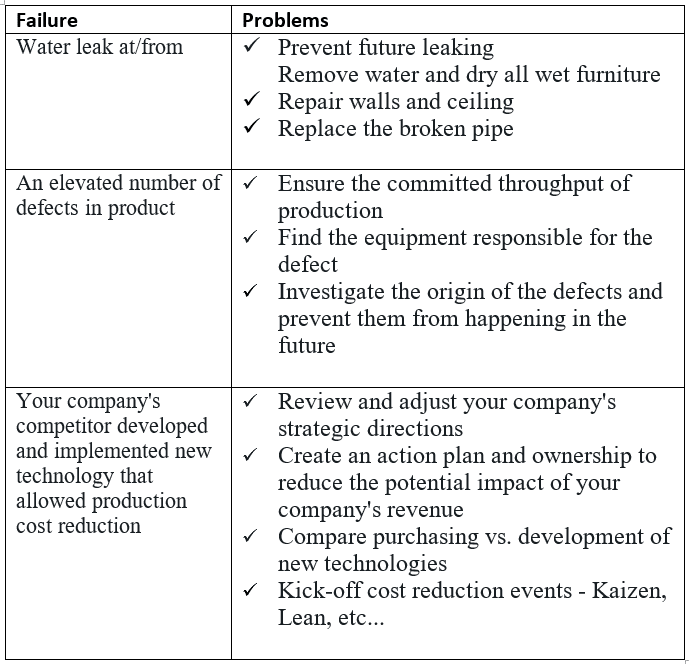 Over and over again, failure is what you can observe, but cannot change. A failure generates problems that you can solve.
Use the table above to define a problem statement. Write on the left field everything that has happened, and you cannot change, and describe the failure in much detail. Think and write what should be done due to the failure, and list the problems that bother you, and you have to solve.
To make things easier and for you to be more organized, use a table similar to the example above, where:
Left column – defines a failure.
Write everything that has happened and you cannot change. Describe the failure in details.
Right column – holds a list of problems for you to solve.
Write down what should be done as a result of the failure. List the problems that bother you and you have to solve.
Failure
Problems
What happened?
What do you observe?
Describe what should be done.
List the problems that bother you:
– Problem A
– Problem B
– etc…
Always rank the problems using one of the Inventive thinking tools:
Urgency – Importance Matrix (UIM) or Round – Robin Ranking.
Searching for the right problem is also a problem-solving tool because it helps you to be focused on the problem.
Exercise
Below is a trivial quiz. But, before you run into finding a solution, please try to define a problem: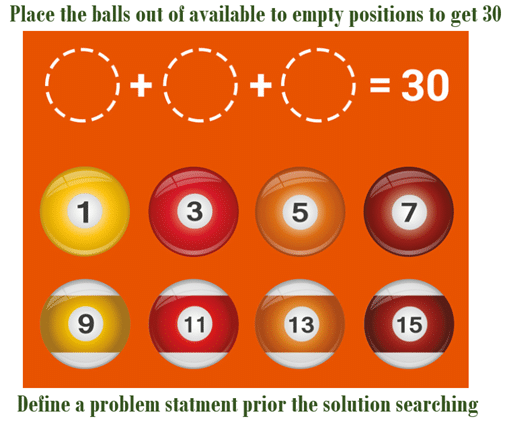 Image source: https://brightside.me/wonder-quizzes/10-cunning-puzzles-to-mess-with-your-mind-663610/
Since you define the correct problem the solution becomes obvious.
Correct problem definition is an inventive thinking tool allowing to solve problems.
Visit the PRIZ Guru site https://www.priz.guru/ to read more about problem-solving and use "Online Platform" https://app.priz.guru/ to solve your problem.
LOGIN to PRIZ Innovation Platform and start your project.